Businesses cite Idaho's easy access to key markets throughout the U.S. and beyond as a major factor in their decision to locate here.
Air Access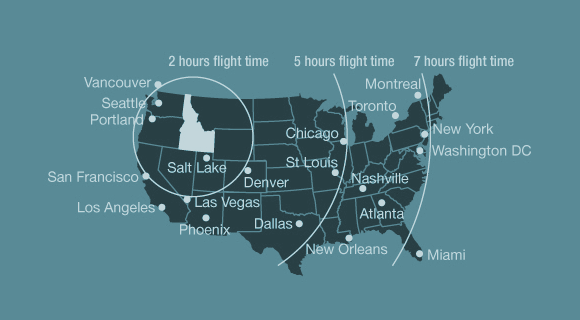 Idaho is well-connected to the world aviation system. We have seven commercial airports scattered around the state. Boise – Idaho's capital city – has a newly renovated, state-of-the-art facility with service to all major U.S. cities and easy connections to international flights. Nearly 3 million passengers and more than 300 million pounds of cargo transited Boise Air Terminal in 2012.
Road Access
With five interstates, 20 U.S. highways, and 30 state highways, Idaho has a stable transport system to support your shipping needs.
Rail Access
Over 1,500 miles of rail bisect Idaho, transiting more than 100 million metric tons of freight each year. Established Class I railroad companies such as Union Pacific and Burlington Northern Santa Fe operate within the state and provide competitive shipping costs.
Rail Transit Times from Boise

Salt Lake City

1 Day

Portland

1 Day

Seattle

1.5 Days

Vancouver

1.5 Days

Denver

2 Days

San Francisco

2 Days

Los Angeles

3 Days

Chicago

5 Days
Sea Access
The furthest that sea cargo can transit into the western coast of the United States is located on the Colombia River at the Port of Lewiston, Idaho. The port has full intermodal capabilities and provides the largest crane, warehouse, and grain storage facility on the inland river system.